The Wooden Needle Newsletter - September 2020
Want to know what's happening at TWN?
Upcoming sales? Giveaways? Classes? Ideas? You've come to the right place! Once each month, we'll send you our newsletter to keep you in the know!
What's happening?
In September, we've got lots going on at TWN. Local Yarn Shop Day (LYS) is Saturday, September 12th, and we're celebrating our 4th anniversary on Saturday, September 19th, so we'll be partying all week! Keep an eye on our Facebook page for details about fun events and activities taking place from the 12th until the 19th. Come join the fun!

What's new?
We've received the latest DeSTITCHnation colorway from frabjour fibers and it's gorgeous! Like the other colorways, the Egypt yarn gets its beautiful hue from a vintage travel poster. When you purchase Egypt, you'll also get a pattern, trunk sticker, and travel poster postcard. Of course, we've also got the coordinating tonals. What a great way to dream about traveling!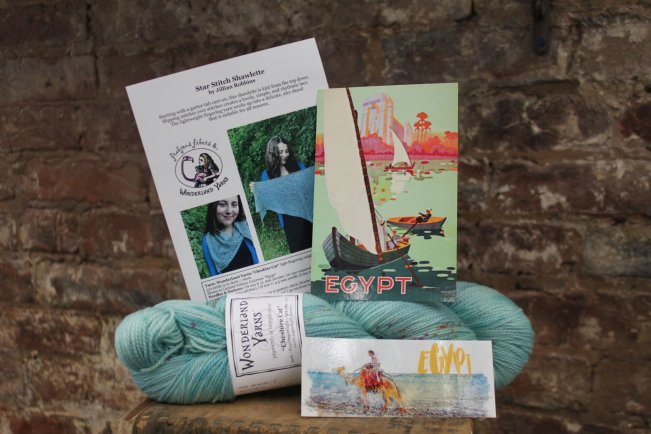 What's on sale?
Our weekly sales are posted on Facebook. Here's what will be on sale in September----
What's the giveaway?
This month, you'll need to stop by TWN to enter our giveaway. At closing time on Saturday, September 19th, we'll give away a tote bag of yarny goodies. Come by the shop anytime before the 19th and put your name in the hat!

What are you gifting?
How about a pretty kitchen towel? Our towels make practical and cute birthday and shower gifts, but they also make perfect "just because" gifts, too.

What's the UFO number for this month?
If you joined our UFO group back in February, and you're still working away on those projects, good for you! You make us proud!
Our September project is #7.

What are you making?
Isn't it fun to share your current project (or projects!) with friends? We love sharing with each other and with our customers. Nicole is crocheting a blanket using Stonehedge's Crazy Wool. Isn't that just the best idea ever?

That's it for our newsletter this month, but don't forget to keep an eye on our Facebook page for the latest news at TWN.

Thanks for spending time with us!


See something that interests you? Want to know the colors we've got? Have a question? Have a suggestion? Check out our website or give us a call.
(270) 954-9005
https://www.thewoodenneedle.com/
https://thewoodenneedle.typepad.com/
https://trentonkyshops.com/