The Wooden Needle Newsletter - March 2021

Newsletter #8
March 2021
Want to know what's happening at TWN? Upcoming sales? Giveaways? Classes? Ideas? You've come to the right place! Once each month, we'll send you our newsletter to keep you in the know!
What's happening?
It's almost time for a new KAL!
Our April/May knit-along will be the beautiful Powder Wrap by Casapinka.
We can't wait!
This wrap can be knit in worsted or fingering weight, which creates lots of room for yarn choices.
Keep an eye on our Facebook page for more information.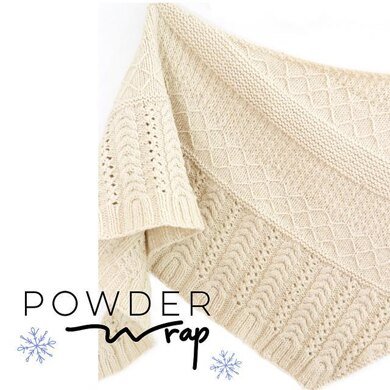 The TWN Blanket MAL continues!
In February, a group of us began to knit or crochet a mitered blankets.
We meet on Wednesdays between 2:00 and 5:00.
Some folks come for a little while, some stay all afternoon--- we're a very relaxed group.
There's still time left if you'd like to participate.
No pressure to finish quickly or meet any deadlines--- just join in the fun.
Our final Blanket Make-A-Long get together will be Wednesday, March 24th.
**To participate, yarn must be purchased at TWN.

Come to Sit & Stitch!
Do you like to knit? Crochet? Embroider? Something else? Bring your project -- whatever it is -- and join us on Thursday evenings. This is our time to enjoy a variety of fiber crafts. For Sit & Stitch, your crafting materials need not have been purchased from TWN.
Bring your mask and project, and come join the fun!
*5:00ish until 7:00ish

What's new?
As if we didn't already love Wonderland Yarns enough, they've added something new and exciting which makes us love them even more!
You may already be familiar with deSTITCHnation, which we carry at TWN. This line of yarn, based on vintage travel posters, is one of our favorites.
Wonderland's latest adventure is The Grand Tour. Each month at TWN, you'll find a colorway in a luxury yarn base, vibrant postcards featuring space travel destinations designed by NASA, a collectible magnet showcasing space views, AND a mystery surprise that will change each month!
How fun is that?
What's on sale?
Our weekly sales are posted on Facebook and our website. Here's what will be on sale in January----
Synchrony

Wool Bundles

Phoenix DK

Wool Patterns
What's the giveaway?
For March, our giveaway will be an attractive Viv and Lou makeup bag. Keep an eye on our Facebook page around the first week or two of the month to find out how to enter the giveaway.

What are you gifting?
A gift that works for just about any person and any occasion is a new mug. We have travel and mule mugs. Want it personalized? We can do that!

What's the UFO number for this month?
It's time to pull those projects out of their hiding places and get them finished! Join us for UFO (Unfinished Objects) this year! This is your chance to complete unfinished objects and/or create new project goals for 2021.
To begin, create a UFO list of projects. Your list can include unfinished projects, new projects, parts of a large project or a combination of the three. Each month, we'll draw a number which will identify the project you'll work on over the coming month. On the third Thursday of each month, we'll meet to share our projects and choose a new number. At the end of the year, you'll feel so proud of your accomplishments (and you can always put those lingering UFOs on your 2022 list!).
March - #8

What are you making?
Isn't it fun to share your current project (or projects!) with friends? We love sharing with each other and with our customers.

Angela knit her lovely socks from West Yorkshire Spinner's Robin colorway.



Mary Beth knit this gorgeous shawl and a pair of socks. And yes--- those are beads you see on the top of that sock!



Elaine is making hexagons using a quilt-as-you-go technique. We can't wait to see this beauty completed!



Beverly is using a little Sweet Georgia to add cuffs, heels, and toes to a pair of socks knit with West Yorkshire Spinner's Mallard.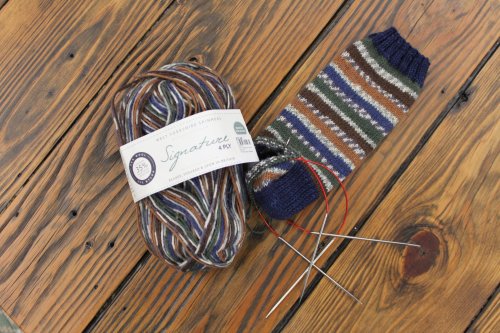 That's it for our newsletter this month, but don't forget to keep an eye on our Facebook page, blog, and website.
Thanks for spending time with us!
See something that interests you? Have a question? Have a suggestion? Check out our website or give us a call.
(270) 954-9005
https://www.thewoodenneedle.com/
https://thewoodenneedle.typepad.com/
https://trentonkyshops.com/