The Wooden Needle Newsletter - April 2021

Newsletter #9
April 2021
Want to know what's happening at TWN? Upcoming sales? Giveaways? Classes? Ideas? You've come to the right place! Once each month, we'll send you our newsletter to keep you in the know!
What's happening?
It's time for a new MAL! We'll begin on Wednesday, April 14th.


Our April/May Make-A-Long for knitters will be the beautiful Powder Wrap by Casapinka.
This wrap can be knit in worsted or fingering weight, which creates lots of room for yarn choices.

For our crocheting friends, we've chosen the lovely Lost in Time Shawl by Johanna Lindahl.
We want everyone to join in the fun!
Keep an eye on our Facebook page for more information.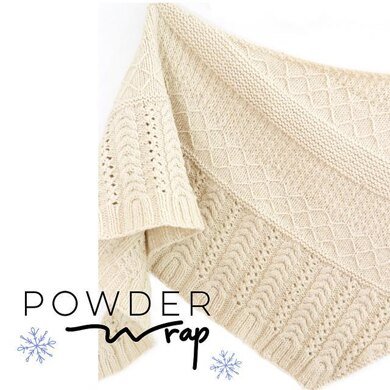 Join us for LYS Day!
Saturday, April 17th, is LYS (Local Yarn Store) Day!
*Sales throughout the day!
*Yarn walks on the hour! (Ever done a cake walk?)
*Yummy snacks!
*A giveaway! (The winner will receive a TWN bag full of yarny goodness)
~We'll be open from 10:00 until 5:00 on LYS Saturday.

Come to Sit & Stitch!
Do you like to knit? Crochet? Embroider? Something else? Bring your project -- whatever it is -- and join us on Thursday evenings. This is our time to enjoy a variety of fiber crafts. For Sit & Stitch, your crafting materials need not have been purchased from TWN.
Bring your mask and project, and come join the fun!
*5:00ish until 7:00ish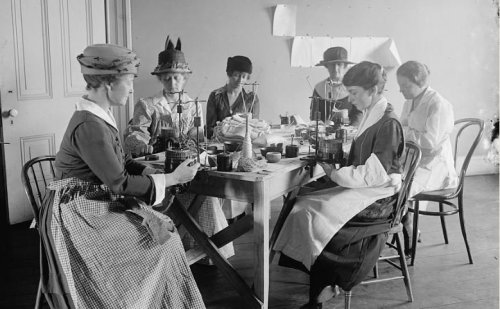 What's new?
Wonderland Yarns has done it again!
If you've not seen the Blossom Garden Society gradients, stop by the store or take a look on our website.
Each lovely ball of yarn comes with a beautiful vintage-inspired floral print postcard and a nature-inspired stitch marker.

What's on sale?
Our weekly sales are posted on Facebook and our website. Here's what will be on sale this month---
What's the giveaway?
For April, our giveaway will be a kit including yarn and pattern to knit the Dripping Lines Blanket in a sweet security blanket size. Keep an eye on our Facebook page around the first week or two of the month to find out how to enter the giveaway.

What are you gifting?
How about new kitchen towels? They brighten up any kitchen and sometimes even create some laughter. Get a couple of towels for a friend, and while you're at it, choose one or two for yourself.

What's the UFO number for this month?
It's time to pull those projects out of their hiding places and get them finished! Join us for UFO (Unfinished Objects) this year! This is your chance to complete unfinished objects and/or create new project goals for 2021.
To begin, create a UFO list of projects. Your list can include unfinished projects, new projects, parts of a large project or a combination of the three. Each month, we'll draw a number which will identify the project you'll work on over the coming month. On the third Thursday of each month, we'll meet to share our projects and choose a new number. At the end of the year, you'll feel so proud of your accomplishments (and you can always put those lingering UFOs on your 2022 list!).
April - #4
What are you making?
Isn't it fun to share your current project (or projects!) with friends? We love sharing with each other and with our customers. Gayla is knitting the Great British Baking shawl in beautiful spring colors. Debbie is ready for Easter with her cute bunny embroidery. Elaine has finished her house quilt top. She is also making very tiny eight-pointed stars that will someday grow into a quilt. (Yes! That's a quarter next to the squares!)

That's it for our newsletter this month, but don't forget to keep an eye on our Facebook page, blog, and website.
Thanks for spending time with us!
See something that interests you? Have a question? Have a suggestion? Check out our website or give us a call.
(270) 954-9005
https://www.thewoodenneedle.com/
https://thewoodenneedle.typepad.com/
https://trentonkyshops.com/