The Wooden Needle Newsletter - June 2021
Newsletter #11
June 2021
Want to know what's happening at TWN? Upcoming sales? Giveaways? Classes? Ideas? You've come to the right place! Once each month, we'll send you our newsletter to keep you in the know!
What's happening?
We're crafting along on WIP Wednesdays!
The past few months, we've been busy on Wednesday afternoons with MALs (make-a-longs).
We've knitted and crocheted shawls and blankets. Some folks are finished, but some aren't and that's okay.
We're going to continue to meet on WIP Wednesdays from 2:00 until 5:00 in June and July to enjoy each other's company and finish our projects.
If you've got a project using yarn you purchased at TWN, even if it wasn't for a MAL, come join the fun on WIP Wednesdays!
Mark Your Calendars!
The Trenton Festival will be happening on June 11th and 12th.
Watch our Facebook page for more information.
You can also find information at https://www.facebook.com/shoptrentonky.

Come to Sit & Stitch!
Do you like to knit? Crochet? Embroider? Something else? Bring your project -- whatever it is -- and join us on Thursday evenings. This is our time to enjoy a variety of fiber crafts. For Sit & Stitch, your crafting materials need not have been purchased from TWN.
Bring your mask and project, and come join the fun!
*5:00ish until 7:00ish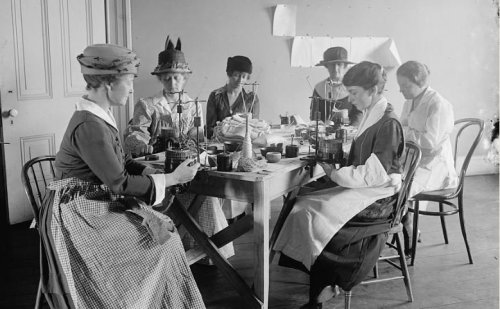 What's new?
You might have seen our recent FB post about the secret.
Shhh. . . it's still a secret, but the big reveal is coming very soon!

If you've seen our lovely National Park colorways from Knitted Wit, you'll be pleased to know we've added the beautiful June collection.

What's on sale?
Our weekly sales are posted on Facebook and our website. Here's what will be on sale this month---
All knit and crochet patterns

Berroco Zinnia

Needle and hook sets

Baby blankets (personalization is included in the purchase price)
What's the giveaway?
For June, our giveaway will be a cute tote bag. Keep an eye on our Facebook page around the first week or two of the month to find out how to enter the giveaway.

What are you gifting?
Can anyone ever have too many tote bags? These make great gifts, and the purchase price includes adding personalization.

What's the UFO number for this month?
It's time to pull those projects out of their hiding places and get them finished! Join us for UFO (Unfinished Objects) this year! This is your chance to complete unfinished objects and/or create new project goals for 2021.
To begin, create a UFO list of projects. Your list can include unfinished projects, new projects, parts of a large project or a combination of the three. Each month, we'll draw a number which will identify the project you'll work on over the coming month. On the third Thursday of each month, we'll meet to share our projects and choose a new number. At the end of the year, you'll feel so proud of your accomplishments (and you can always put those lingering UFOs on your 2022 list!).
June - #10
What are you making?
Isn't it fun to share your current project (or projects!) with friends? We love sharing with each other and with our customers. Gayla is using Midcoast String to knit a lovely Felicitous shawl. Elaine's quilting skills are evident in this charming Disappearing Hourglass 2 quilt. Debbie is knitting a beautiful Powder Wrap in Nova. Nicole has published her first crochet pattern, the Breezy Day Cardigan/Coverup, on Ravelry and Etsy. You go, girl!
That's it for our newsletter this month, but don't forget to keep an eye on our Facebook page, blog, and website.
Thanks for spending time with us!
See something that interests you? Have a question? Have a suggestion? Check out our website or give us a call.
(270) 954-9005
https://www.thewoodenneedle.com/
https://www.facebook.com/TheWoodenNeedle/
https://thewoodenneedle.typepad.com/
https://trentonkyshops.com/