The Wooden Needle Newsletter - February 2022
Newsletter #19
February 2022
Want to know what's happening at TWN? You've come to the right place!
Once each month, we'll send you our newsletter to keep you in the know!
Baby, it's cold outside, but we guarantee a knit or crochet project will get you warmed up!
Try the Glamping Blanket by Casapinka.

What's happening?
Join the Trenton Sockettes!
If you like to make socks, come join the Trenton Sockettes.
We'll meet every Friday from 2:00 until 5:00.
Watch the TWN Facebook page for more information.

Workshop Wednesdays!
We are beginning new projects on Workshop Wednesdays!
Every month or so, we'll begin a new project together.
Want to learn two-color brioche? How to read a chart?
Our goal is to help you learn new skills or practice old ones.
Here's the plan----
August - Socks (knit and crochet) - DONE!

Sept/Oct - Reading charts - Guernsey Wrap, Walnut Bark Shawl, or Walnut Bark Cowl - DONE!

Nov/Dec - Mosaic/slipping stitch knitting - Rogue River Cowl - DONE!

Jan/Feb - Lace and beads - BEADING AWAY!

March - Two-color brioche

Apr/May - Colorwork
There is no charge for attending our workshops. The only requirement is that you purchase your project materials here at TWN. A basic knowledge of knitting or crocheting will be needed for these projects.
You don't have to attend every week--- come as you can, when you need help, or when you just want to come!.
Workshop Wednesdays will be every Wednesday afternoon from 2:00 until 5:00.
Can't come on Wednesday afternoon? You are welcome to do a Workshop Wednesday project on Thursday evenings from 5:00 until 7:00.
Questions? Just give us a call!


Come to Sit & Stitch!
Do you like to knit? Crochet? Embroider? Something else? Bring your project -- whatever it is -- and join us on Thursday evenings. This is our time to enjoy a variety of fiber crafts. For Sit & Stitch, your crafting materials need not have been purchased from TWN.
Bring your project, and come craft with us!
We'll meet on Thursday evenings from 5:00ish until 7:00ish.

What's new?
Wonderland Yarns has changed our destination! Rather than taking us to places around the world, deSTITCHnation is now taking us to Literary Realms. Each month, we'll travel to a location in a book. The first month, we're traveling to Wonderland! For a company named frabjous fibers, could we visit any place more appropriate?

Another fun club Wonderland has going is the Kitsch Club. These sets consist of cute enamel pins and five mini skeins in coordinating colorways. So far, we've received Lawn Flamingo, Metal Robot, and Retro Camper. Don't they just make you smile?

What are you gifting?
Book pillows are for everyone—- children and adults! Give your favorite reader (or yourself) a book pillow. It's the perfect spot to keep your book or ereader until it's time to read.

What's the UFO number for this month?
Do you see them?
They're watching you!
All those unfinished projects----
It's time to pull them out of their hiding places and get them finished! Join us for UFO this year! This is your chance to complete unfinished objects or create new 2022 project goals. To join our group, simply create a UFO list of twelve projects. Your list of twelve projects can include unfinished projects, new projects, parts of a large project or a combination of the three. Each month, we'll draw a number which will identify the project you'll work on over the coming month. On the third Thursday of each month (February 17th this month), we'll meet to share our projects and choose a new number. Just think! At the end of the year, you'll feel so good with all those FOs!
January - #12

What? UFO - Unfinished Objects
When? Third Thursday of each month 5:00 until 7:00
How? Each month work on the chosen number project from your list
**For UFO projects, yarn does not have to be purchased from TWN.
What are you making?
Isn't it fun to share your current project (or projects!) with friends? We love sharing with each other and with our customers.
We've had two customers finish their Sweet Blossoms Blankets – Patti and Julia.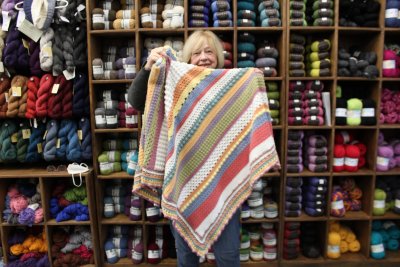 Patti has been busy. She's also finished her Temperance Shawl.

After playing yarn chicken, Griffin finished her cute crocheted socks.

Sparkle Girl Debbie is crocheting a block-of-the-month blanket.

Renaissance Woman Elaine has completed her beautiful house quilt.

Boss Lady Gayla is knitting the Elve Slippers— from the heel up!

Needle Notes
Hope everyone's new year has gotten off to a great start! This year, we'll be working on expanding our wool and wool applique selection. We're having more shelves made to hold yarn, because we are always looking for new yarns to offer our customers. Sad to say, a few of our favorite yarns are leaving the store. Shepherd's Wool and Crazy Wool will no longer be sold to retail stores, and Phoenix DK has been discontinued.

We're so happy when you come in and show us the projects you've made with TWN yarn, and we love when you come to our store to knit or crochet! Almost every day of the week, we have customers that sit in our "living room" and work on their projects. Whether you're here for a specific store activity or simply to work on your current project, we're so pleased that you spend time with us.
Hope to see you all soon!
Gayla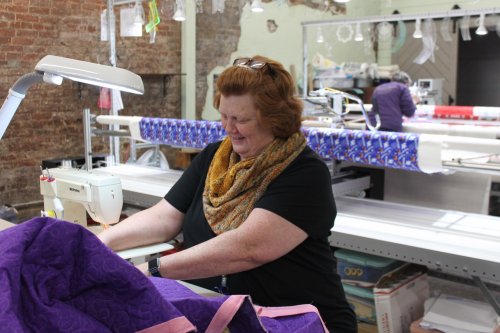 That's it for our newsletter this month, but don't forget to keep an eye on our Facebook page, blog, and website.
Thanks for spending time with us!
See something that interests you? Have a question? Have a suggestion? Check out our website or give us a call.
(270) 954-9005
https://www.thewoodenneedle.com/
https://www.facebook.com/thewoodenneedle/
https://thewoodenneedle.typepad.com/