The Wooden Needle Newsletter - March 2022
Newsletter #20
March 2022
Want to know what's happening at TWN? You've come to the right place!
Once each month, we'll send you our newsletter to keep you in the know.
They say March comes in like a lion, but that's okay with us. We're ready for it to come!

What's happening?
Join the Trenton Sockettes!
If you like to make socks, come join the Trenton Sockettes.
We meet every Friday from 2:00 until 5:00.
As with all of our activities, watch the TWN Facebook page for more information.

Workshop Wednesdays!
Join us for Workshop Wednesdays!
Every month or so, we'll begin a new project together.
Want to learn two-color brioche? How to read a chart?
Our goal is to help you learn new skills or practice old ones.
**If you want to learn to knit or crochet, Workshop Wednesday is for you, too. We'll teach you beginning with a very simple project. Come join us!
Here's the plan----
August - Socks (knit and crochet) - DONE!

Sept/Oct - Reading charts - Guernsey Wrap, Walnut Bark Shawl, or Walnut Bark Cowl - DONE!

Nov/Dec - Mosaic/slipping stitch knitting - Rogue River Cowl - DONE!

Jan/Feb - Lace and beads - DONE!

March - Two-color brioche - LET'S GET STARTED!

Apr/May - Colorwork

June - Finish those WIPs
There is no charge for attending our workshops. The only requirement is that you purchase your project materials here at TWN. A basic knowledge of knitting or crocheting will be needed for these projects.
You don't have to attend every week--- come as you can, when you need help, or when you just want to come!.
Workshop Wednesdays happen every Wednesday afternoon from 2:00 until 5:00.
Questions? Just give us a call!

Come to Sit & Stitch!
Do you like to knit? Crochet? Embroider? Something else? Bring your project -- whatever it is -- and join us on Thursday evenings. This is our time to enjoy a variety of fiber crafts. For Sit & Stitch, your crafting materials need not have been purchased from TWN.
Bring your project, and come craft with us!
We'll meet on Thursday evenings from 5:00ish until 7:00ish.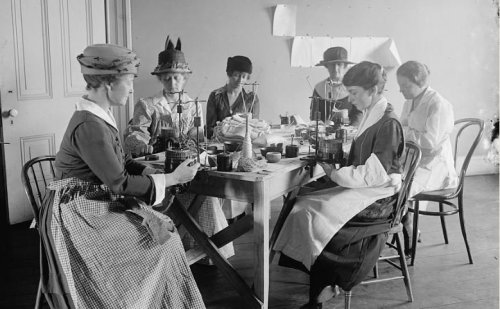 What's new?
Enjoy knitting dishcloths and washcloths? Like crocheting spa sets? Just looking for some beautiful 100% cotton? If so, you're going to love all the new colorways we've received in Rowan Handknit Cotton! Choose from twenty-eight beautiful skeins.

Lovely and light!
Berroco Ultra Alpaca Light is the perfect blend of Super Fine Alpaca and Peruvian Wool.

Florrie likes color, so one of her recent favorites is Lang Frida. If you like yarn rich in color, we think you'll like Frida!

What are you gifting?
Florrie will bring a smile to anyone's face! Gift a TWN Florrie mug or enamel pin to a special someone (which includes yourself!).

What's the UFO number for this month?
Do you see them?
They're watching you!
All those unfinished projects----
It's time to pull them out of their hiding places and get them finished! Join us for UFO this year! This is your chance to complete unfinished objects or create new 2022 project goals. To join our group, simply create a UFO list of twelve projects. Your list of twelve projects can include unfinished projects, new projects, parts of a large project or a combination of the three. Each month, we'll draw a number which will identify the project you'll work on over the coming month. On the third Thursday of each month (March 17th this month), we'll meet to share our projects and choose a new number. Just think! At the end of the year, you'll feel so good with all those FOs!
February - #10
What? UFO - Unfinished Objects
When? Third Thursday of each month 5:00 until 7:00
How? Each month work on the chosen number project from your list
**For UFO projects, yarn does not have to be purchased from TWN.

What are you making?
Isn't it fun to share your current project (or projects!) with friends? We love sharing with each other and with our customers.
Take a look at this beautiful bunch of beaded shawlettes!

Angela used her Wonderland Budapest to create this Woolly Wormhead wonder!

Glyndan completed her gorgeous Glamping Blanket!

Jac really shows off her knitting skills in this beautiful sweater!

Barbara used Crazy Wool to create her colorful scarf!

Sparkle Girl Debbie is knocking out her UFO list, and this afghan is one of her projects.
Renaissance Woman Elaine has completed a delightful barn-themed quilt.

Boss Lady Gayla is knitting brioche for our Workshop Wednesday project!
Needle Notes
We've gotten off to a great start with our Workshop Wednesday projects. The Wednesday folks have just about finished their lace and bead shawlettes and are headed into knitting two-color brioche in the round. Workshop Wednesday is a great way to increase your skills in knitting or crocheting. Some of the WW group are also working on a yearlong blanket project.


Thursday night UFO is going strong, also. Until the third Thursday in March, we'll be working on project number ten. This is a great way to get some projects finished or new ones started, which ever works best for you. Call for details if you are interested.


Be watching for new yarns to come in this month. Also, joining the Wonderland yarn clubs we currently carry, we will soon carry the Frabjious Fibers Kitsch club fiber (roving).


Hope to see you all soon!
Gayla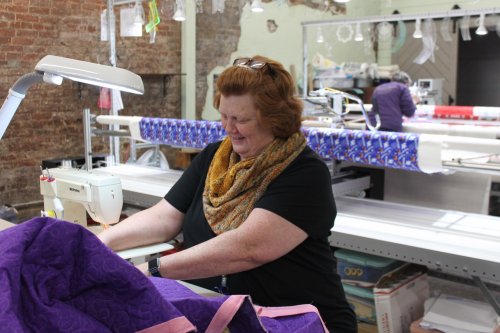 You read to the end, so you get a reward!
----------------------------------------------------------------------------------------------------
Newsletter Reader 25% Coupon
Your coupon code is March25
Receive 25% off any purchase of $25 or more

Show coupon at time of purchase (on phone or paper copy)

Coupon code may be used on our website

Does not include sale yarn

Coupon may be used once between March 1st and 8th, 2022
---------------------------------------------------------------------------------------------------
That's it for our newsletter this month, but don't forget to keep an eye on our Facebook page, blog, and website.
Thanks for spending time with us!
See something that interests you? Have a question? Have a suggestion? Check out our website or give us a call.
(270) 954-9005
https://www.thewoodenneedle.com/
https://www.facebook.com/thewoodenneedle/
https://thewoodenneedle.typepad.com/