The Wooden Needle Newsletter - April 2022
Newsletter #21
April 2022
Want to know what's happening at TWN? You've come to the right place!
Once each month, we'll send you our newsletter to keep you in the know.
April showers bring May flowers. It also brings new yarn and fun projects!

What's happening?
Easter is coming!
Find treats for your little peeps at TWN.

LYS Day
It's Time to Celebrate!
Saturday, April 30th, is LYS (Local Yarn Store) Day!
*Sales throughout the day!
*Yarn walks on the hour! (Ever done a cake walk?)
*Yummy snacks!
*A Giveaway! (a TWN bag full of yarny goodness)
~We'll be open from 10:00 until 5:00.
COME JOIN THE FUN!

Join the Trenton Sockettes!
Who needs the New York City Rockettes?
We've got the Trenton Sockettes!
If you like to knit socks— whether its your first or fiftieth pair— come join us.
Want to try toe up? Cuff down? A new pattern?
We meet every Friday from 2:00 until 5:00.
As with all of our activities, watch the TWN Facebook page for more information.

Workshop Wednesdays!
Join us for Workshop Wednesdays!
Every month or so, we'll begin a new project together.
Want to learn two-color brioche? How to read a chart?
Our goal is to help you learn new skills or practice old ones.
**If you want to learn to knit or crochet, Workshop Wednesday is for you, too. We'll teach you on a very simple project. Come join us!
Here's the plan----
August - Socks (knit and crochet) - DONE!

Sept/Oct - Reading charts - Guernsey Wrap, Walnut Bark Shawl, or Walnut Bark Cowl - DONE!

Nov/Dec - Mosaic/slipping stitch knitting - Rogue River Cowl - DONE!

Jan/Feb - Lace and beads - Beaded Shawlette - DONE!

March - Two-color brioche - Training Wheels cowl - DONE!

Apr/May - Colorwork - Let's get started!

June - Finish those WIPs
There is no charge for attending our workshops. The only requirement is that you purchase your project materials here at TWN. A basic knowledge of knitting or crocheting will be needed for these projects.
You don't have to attend every week--- come as you can, when you need help, or when you just want to come!.
Workshop Wednesdays happen every Wednesday afternoon from 2:00 until 5:00.
Questions? Just give us a call!

Come to Sit & Stitch!
Do you like to knit? Crochet? Embroider? Something else? Bring your project -- whatever it is -- and join us on Thursday evenings. This is our time to enjoy a variety of fiber crafts. For Sit & Stitch, your crafting materials need not have been purchased from TWN.
Bring your project, and come craft with us!
We'll meet on Thursday evenings from 5:00ish until 7:00ish.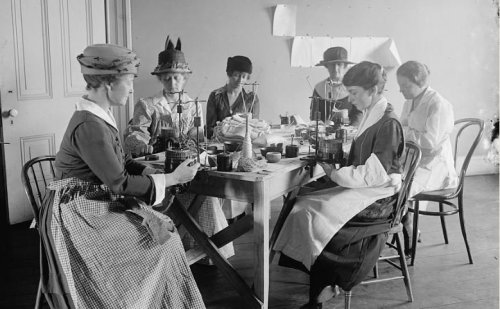 What's new?
We now carry Euro Yarn's Tenderfoot!
This fingering weight yarn is 75% Merino Lambswool and 25% Polyamide.
Stop by the store or look on our website at the twenty-nine gorgeous colorways.
We carry the Farah Pullover and Elsie Lace Shawl patterns, which are designed specifically for Tenderfoot.

Looking for fiber? We've got it!
Another new item at TWN is hand-dyed Blue Faced Leicester from frabjous fibers Fiber Club.
If you enjoy spinning, wet felting, or other wool crafts, this should make you smile.

Literary Realms is here!
Let's travel with Wonderland Yarns to deSTITCHnations in our favorite books.
If you dream of visiting Camelot, you'll love the colorway we just received.
The little enamel pin? It's the sword in the stone, of course!
What are you gifting?
It's the time of year that folks begin to make traveling plans.
Gift a cute tote bag and have it personalized.
At TWN, personalization is included in the purchase price.

What's the UFO number for this month?
Do you see them?
They're watching you!
All those unfinished projects----
It's time to pull them out of their hiding places and get them finished! Join us for UFO this year! This is your chance to complete unfinished objects or create new 2022 project goals. To join our group, simply create a UFO list of twelve projects. Your list of twelve projects can include unfinished projects, new projects, parts of a large project or a combination of the three. Each month, we'll draw a number which will identify the project you'll work on over the coming weeks. On the third Thursday of each month, we'll meet to share our projects and choose a new number. Just think! At the end of the year, you'll feel so good with all those FOs!
March - #9
What? UFO - Unfinished Objects
When? Third Thursday of each month 5:00 until 7:00
How? Work on the chosen number project from your list until the third Thursday
**For UFO projects, yarn does not have to be purchased from TWN.

What are you making?
Isn't it fun to share your current project (or projects!) with friends?
We love sharing with each other and with our customers.
Take a look at Lucile's beautiful Glamping blanket. You go, girl!

Phyllis is rocking her Accent on the Upbeat cowl!

Carol has been one busy lady. Among other things, she's finished her Beaded Shawlette and Temperance Shawl— both beautiful!

Sonia and Debbie are showing off their beautiful Training Wheels brioche cowls—- both sides!

Sparkle Girl Debbie has sewn a gorgeous Folded Over block.

Renaissance Woman Elaine has almost finished her colorful Irish Chain top.

Boss Lady Gayla is knitting a sweet baby blanket with Rowan Handknit Cotton.
Needle Notes
We've gotten in a few new yarns and have seen lots of projects finished in our groups. Coming to TWN and stitching with others encourages you to not only start new projects but finish the ones you've already started. You can get help if you're stuck on something you're working on and enjoy the companionship of other crafters.
Don't forget that LYS (local yarn store day) is coming on the 30th of April. We'll have our yarn walks and specials all day--- and our grand prize! You need not be present to win, but you must come in to register for the giveaway.
Main Street Festival is coming to Trenton in June this year. We'll have our tent set up out front and have our sidewalk sales going. There will be lots of vendors for food and other crafts.
Hope to see you all soon!
Gayla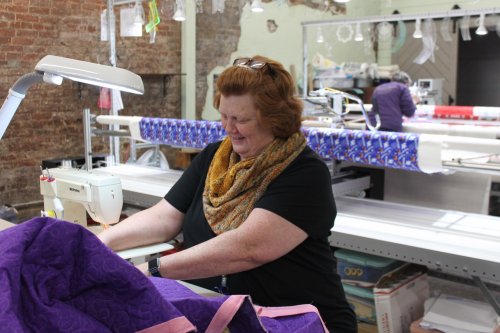 That's it for our newsletter this month, but don't forget to keep an eye on our Facebook page, blog, and website.
Thanks for spending time with us!
See something that interests you? Have a question? Have a suggestion? Check out our website or give us a call.
(270) 954-9005
https://www.thewoodenneedle.com/
https://www.facebook.com/thewoodenneedle/
https://thewoodenneedle.typepad.com/