The Wooden Needle Newsletter - August 2022
Newsletter #25
August 2022
Want to know what's happening at TWN?
You've come to the right place!
Once each month, we'll send you our newsletter to keep you in the know.
Feeling the urge to buy a new box of crayons?
It's back to school time!

What's happening?
Help us fill the bus!
On August 5th and 6th, please help us fill the bus for Todd County students by donating new school supplies.
Drop off your school supply donations at the bus in Trenton, and you'll receive an envelope of coupons (to use at a later date) from participating local businesses.
Friday, August 5th - 12:00-5:00
Saturday, August 6th - 9:00-3:00
Let's Fill the Bus!
Workshop Wednesdays!
Join us for Workshop Wednesdays!
Every month or so, we'll begin a new project together.
Our goal is to help you learn new skills or practice old ones.
There is no charge for attending TWN Workshop Wednesdays.
A basic knowledge of knitting or crocheting will be needed for these projects.
The only requirement is that you purchase your project materials here at TWN.
You don't have to attend every Wednesday--- come when you can, when you need help, or when you just want to join the party!
Workshop Wednesdays will take place every Wednesday afternoon from 2:00 until 5:00.
July - Christmas in July (ornaments) - DONE!

August - Simple hat - WIP

September/October - Basic sweater

November - Cowl (seaming project)

December - Mittens (colorwork)

January - Cowl (holding fingering and mohair together)

February/March - Shawl (using a gradient and a solid together)

April - Vest (three-needle bind off)

May - Socks (lace)

June - finish our WIPs
Questions? Just give us a call!

Come to Sit & Stitch!
Do you like to knit? Crochet? Embroider? Something else?
Bring your project -- whatever it is -- and join us on Thursday evenings.
This is our time to enjoy a variety of fiber crafts.
For Sit & Stitch, your crafting materials need not have been purchased from TWN.
Bring your project, and come craft with us!
We'll meet on Thursday evenings from 5:00ish until 7:00ish.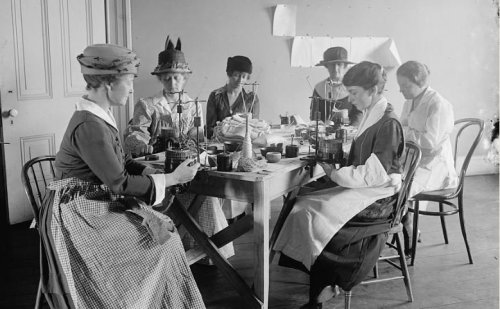 Join the Trenton Sockettes!
Who needs the New York City Rockettes?
We've got the Trenton Sockettes!
If you like to knit socks— whether it's your first or fiftieth pair— join us on Friday afternoons from 2:00 until 5:00.
Want to try toe up? Cuff down? A new pattern?
We meet every Friday from 2:00 until 5:00.
As with all of our activities, watch the TWN Facebook page for more information.
What's new?
We are enjoying traveling with Wonderland this year through Literary Realms.
If you enjoy the story of Aladdin's lamp, we think you'll really like Cave of Wonders.
Take a look at that enamel pin!

If you enjoy spinning, felting, or other wool crafting, you'll be pleased to know we just received the beautiful BFL Camper colorway from frabjous fiber.

It's always a treat to see the new National Park colorways from Knitted Wit!

What are you gifting?
Since it's that time of year, a backpack can be the perfect back-to-school gift.
How about one with a matching lunchbox?
Remember— personalization is included in the purchase price at TWN.

What's the UFO number for this month?
Do you see them?
They're watching you!
All those unfinished projects----
It's time to pull them out of their hiding places and get them finished! Join us for UFO this year! This is your chance to complete unfinished objects or create new 2022 project goals. To join our group, simply create a UFO list of twelve projects. Your list of twelve projects can include unfinished projects, new projects, parts of a large project or a combination of the three. Each month, we'll draw a number which will identify the project you'll work on over the coming month. On the third Thursday of each month, we'll meet to share our projects and choose a new number. Just think! At the end of the year, you'll feel so good with all those FOs!
*It's not too late to start! Just list a few projects you want to finish and come join us!*
July - #8
What? UFO - Unfinished Objects
When? Third Thursday of each month 5:00 until 7:00
How? Work on the chosen number project from your list until the third Thursday
**For UFO projects, yarn does not have to be purchased from TWN.

What are you making?
Isn't it fun to share your current project (or projects!) with friends?
We love sharing with each other and with our customers.
Take a look at Lucile styling her beautifully beaded shawl!

Claudia, our friend in Germany, sent us a picture of her sweet Nutkin socks she knit with yarn she purchased at TWN when she came to visit us!

Mary Beth celebrated Christmas in July by knitting these tiny ornaments!

The baby wearing Angela's darling Norwegian Fir cardi will most definitely win the best dressed award!

Sparkle Girl Debbie has been busy cross stitching a cute cooking gnome and crocheting the warm Simple Stitch beanie!

Super Stitcher Sam surprised her mom with a knitter's cross stitch sampler. She also created a fun modified Churn Dash block.

Bookish Beverly is sewing! She's made blocks in the Friendship Star pattern and a Knot Bag.

These Wyoming Valley blocks sewn by Renaissance Woman Elaine are lovely.

Boss Lady Gayla has created beautiful Traditional Sunflower blocks.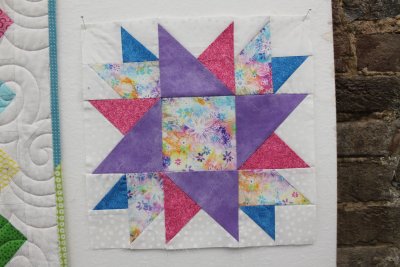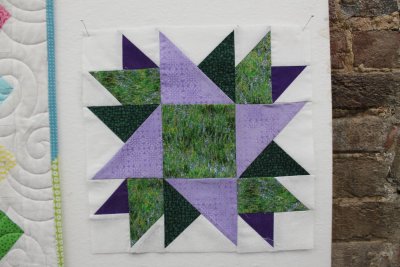 Needle Notes
As our new work shop Wednesday begins for August, we will be working on hats in the round, either knit or crochet. In September and October, we'll be working on a sweater out of chunky weight yarn. It is an easy bottom up pattern that will be good for beginners but a fun knit for the more experienced knitter.
With half the year gone now we need to think about any quilts you want done for Christmas. The deadline for Christmas quilts will get here faster than you think. The deadline for quilts is usually around the first of October, but we need custom orders sooner. T-shirt quilts would need to be in very soon to make it by the Christmas deadline,
We have a new yarn line coming to the store– Juniper Moon Santa Cruz. This will be taking the place of our Shepherds Wool which is no longer available. We do have some Shepherds Wool in stock but it is going fast.
Look for a few specials this month. We will be clearing out some things to make room for new yarns.
Don't forget the FILL THE BUS campaign going on in Trenton on August 5th and 6th.
Hope to see you all soon—
Gayla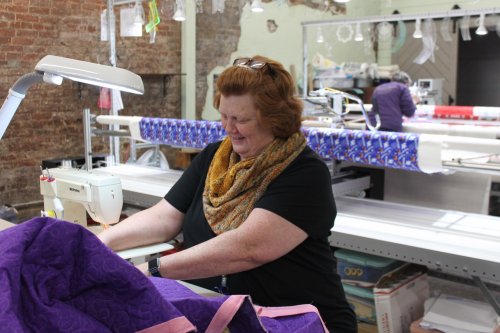 That's it for our newsletter this month, but don't forget to keep an eye on our Facebook page, blog, and website.
Thanks for spending time with us!
See something that interests you? Have a question? Have a suggestion? Check out our website or give us a call.
(270) 954-9005
https://www.thewoodenneedle.com/
https://www.facebook.com/thewoodenneedle/
https://thewoodenneedle.typepad.com/