The Wooden Needle Newsletter - September 2022
Newsletter #26
September 2022
Want to know what's happening at TWN?
You've come to the right place!
Once each month, we'll send you our newsletter to keep you in the know.
Can you feel it?
Fall is on the way— we promise!
What's happening?
Happy Birthday, TWN!
Our 6th anniversary is September 16th!
Stop by and celebrate with us on Friday, September 16th, and Saturday, September 17th.
On those two days, purchase 5 items in the store and you'll get the 6th one (lowest price) free.
If you can't come in the store, any online order over $25 will get 16% off with the coupon code 6YEARS.
*Punches won't be given nor may rewards cards be used on these purchases.

Have you ever traveled a Bale Trail!
It begins in October, so keep an eye on our Facebook page for more information!
(Our TWN Cowardly Lion is from a past Bale Trail.)

Workshop Wednesdays!
Join us for Workshop Wednesdays!
Every month or so, we'll begin a new project together.
Our goal is to help you learn new skills or practice old ones.
There is no charge for attending TWN Workshop Wednesdays.
A basic knowledge of knitting or crocheting will be needed for these projects.
The only requirement is that you purchase your project materials here at TWN.
You don't have to attend every Wednesday--- come when you can, when you need help, or when you just want to join the party!
Workshop Wednesdays will take place every Wednesday afternoon from 2:00 until 5:00.
July - Christmas in July (ornaments) - DONE!

August - Simple hat - FINISHED!

September/October - Basic sweater - LET'S GET STARTED!

November - Cowl (seaming project)

December - Mittens (colorwork)

January - Cowl (holding fingering and mohair together)

February/March - Shawl (using a gradient and a solid together)

April - Vest (three-needle bind off)

May - Socks (lace)

June - finish our WIPs
Questions? Just give us a call!

Come to Sit & Stitch!
Do you like to knit? Crochet? Embroider? Something else?
Bring your project -- whatever it is -- and join us on Thursday evenings.
This is our time to enjoy a variety of fiber crafts.
For Sit & Stitch, your crafting materials need not have been purchased from TWN.
Bring your project, and come craft with us!
We'll meet on Thursday evenings from 5:00ish until 7:00ish.

Join the Trenton Sockettes!
Who needs the New York City Rockettes?
We've got the Trenton Sockettes!
If you like to knit socks— whether it's your first or fiftieth pair— join us on Friday afternoons from 2:00 until 5:00.
Want to try toe up? Cuff down? A new pattern?
We meet every Friday from 2:00 until 5:00.
As with all of our activities, watch the TWN Facebook page for more information.
What's new?
Ever had your yarn roll underneath a table?
Had to run to grab it from your furry friend?
We can help solve those problems in a beautiful way with a Lykke yarn box.
What are you gifting?
It may still be warm outside, but we can feel it in the morning air.
Gift a friend (or yourself!) a reminder that fall is coming with a beautiful kitchen towel.

What's the UFO number for this month?
Do you see them?
They're watching you!
All those unfinished projects----
It's time to pull them out of their hiding places and get them finished! Join us for UFO this year! This is your chance to complete unfinished objects or create new 2022 project goals. To join our group, simply create a UFO list of twelve projects. Your list of twelve projects can include unfinished projects, new projects, parts of a large project or a combination of the three. Each month, we'll draw a number which will identify the project you'll work on over the coming month. On the third Thursday of each month, we'll meet to share our projects and choose a new number. Just think! At the end of the year, you'll feel so good with all those FOs!
August - #7

What? UFO - Unfinished Objects
When? Third Thursday of each month 5:00 until 7:00
How? Work on the chosen number project from your list until the third Thursday
**For UFO projects, yarn does not have to be purchased from TWN.
What are you making?
Isn't it fun to share your current project (or projects!) with friends?
We love sharing with each other and with our customers.
Katie is showing off her creativity with a crocheted tie!

Mary Beth has been busy making more Christmas ornaments and a cozy Barley hat!

Glyndan is getting ready for Christmas by knitting tiny ornaments!

TWN's favorite model, Sweet Luke, has been assisting Sparkle Girl Debbie by showing off a cowl and sock she's finished!

Super Stitcher Sam is busy stitching on a new cross stitch piece.
We can't wait to see how it turns out!

Renaissance Woman has sewn another beautiful Wyoming Valley block.

Boss Lady Gayla is knitting a Dustland Hat. It sounds like she's going to be adding a fluffy pom to it, so keep an eye on our Facebook page.
Needle Notes
September is our anniversary month! This year we will be having a sale on the 16th and 17th to celebrate. Our in store sale will be buy 5 get your 6th item free. Our online sales will be 16% off your purchase price with a minimum purchase of $25. We will be doing our yarn walks in the store on the 17th.
We are proud to be a part of Trenton and strive to serve our community. We have donated a quilt for the annual Trenton Halloween Carnival. This quilt will be displayed in the United Southern Bank here in Trenton until the day of the carnival. (Below is a picture of the quilt you could win. It is a Scrappy Double Irish Chain which measures 86 x 86.) You can purchase chances in the local shops here in Trenton and at the carnival to win the quilt, 2 separate $500 prizes, and other items. It is a fun night for the entire family. There will be games, food, a silent auction, bingo for prizes, a costume contest for the children, and other fun activities. Also, you can donate items for bingo prizes, the drawings, and the auction. Bring any donations to our store and we will see that they get to the community center committee. Have questions? Please free to call us at 270-954-9005. The proceeds from the carnival go to the renovations of our community center.
Hope to see you all soon—
Gayla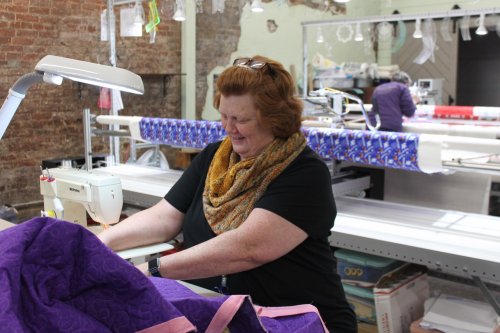 That's it for our newsletter this month, but don't forget to keep an eye on our Facebook page, blog, and website.
Thanks for spending time with us!
See something that interests you? Have a question? Have a suggestion? Check out our website or give us a call.
(270) 954-9005
https://www.thewoodenneedle.com/
https://www.facebook.com/thewoodenneedle/
https://thewoodenneedle.typepad.com/