The Wooden Needle Newsletter - October 2022
Newsletter #27
October 2022
Want to know what's happening at TWN?
You've come to the right place!
Once each month, we'll send you our newsletter to keep you in the know.
Can you feel it?
It's here! It's here!
Let's celebrate fall!
What's happening?
Double Punch Day!
Wednesday, October 5th, will be double punch day in the store.
Normally, for every $10 you spend in the store (not counting tax), you receive one punch on your rewards card. On October 5th, you'll receive two punches for every $10!
(Double punch day does not apply to quilting services.)


Have you ever traveled a Bale Trail?

A fall tradition in Todd County is the Bale Trail. It's a fun way to celebrate the season and enjoy folks' creativity. In Trenton, our theme is Old McDonald Hay-d a Farm. If you're looking for loads of photo ops, this is the place to be, and you can vote for your favorite creation! (Might we suggest voting for some cute sheep?)
You can find the Bale Trail map at https://toddchamber.com/bale-trail/.

The Carnival is back!
The Trenton Halloween Carnival is back this year! It's an evening full of old fashioned fun with bingo, cake walks, and costume contests for the kiddos. The silent auction is always an exciting event, too. You can even purchase raffle tickets to win a quilt donated by TWN. We have tickets here in the store, but you can also purchase them the night of the carnival. The carnival will be held in the Community Center (old school building) on Saturday, October 29th, beginning at 5:00. Join us for a night of fun at the 79th Annual Trenton Halloween Carnival.

Workshop Wednesdays!
Join us for Workshop Wednesdays!
Every month or so, we'll begin a new project together.
Our goal is to help you learn new skills or practice old ones.
There is no charge for attending TWN Workshop Wednesdays.
A basic knowledge of knitting or crocheting will be needed for these projects.
The only requirement is that you purchase your project materials here at TWN.
You don't have to attend every Wednesday--- come when you can, when you need help, or when you just want to join the party!
Workshop Wednesdays will take place every Wednesday afternoon from 2:00 until 5:00.
July - Christmas in July (ornaments) - DONE!

August - Simple hat - FINISHED!

September/October - Basic sweater - GETTING THERE!

November - Cowl (seaming project)

December - Mittens (colorwork)

January - Cowl (holding fingering and mohair together)

February/March - Shawl (using a gradient and a solid together)

April - Vest (three-needle bind off)

May - Socks (lace)

June - finish our WIPs
Questions? Just give us a call!

Come to Sit & Stitch!
Do you like to knit? Crochet? Embroider? Something else?
Bring your project -- whatever it is -- and join us on Thursday evenings.
This is our time to enjoy a variety of fiber crafts.
For Sit & Stitch, your crafting materials need not have been purchased from TWN.
Bring your project, and come craft with us!
We'll meet on Thursday evenings from 5:00ish until 7:00ish.

Join the Trenton Sockettes!
Who needs the New York City Rockettes?
We've got the Trenton Sockettes!
If you like to knit socks— whether it's your first or fiftieth pair— join us on Friday afternoons from 2:00 until 5:00.
Want to try toe up? Cuff down? A new pattern?
We meet every Friday from 2:00 until 5:00.
What's new?
If you're looking for a workhorse worsted, you'll find it in Juniper Moon Santa Cruz.
We just began carrying this beautiful yarn, and we have all 38 colorways of the collection.
Laines du Nord offers a lovely range of "made in Italy" yarns.
You can find Poema Nuance and Watercolor Sock now at TWN.
What are you gifting?
Can anyone ever have too many totes?
Of course not— especially when the tote is as beautiful as this one. Use it for a weekender, a work bag, or carry-all tote. Gift this gorgeous tote to a friend (or yourself!).
Remember. . . personalization is included in the purchase price at TWN.

What's the UFO number for this month?
Do you see them?
They're watching you!
All those unfinished projects----
We realize the year is almost over, but you can still join us for UFO this year or begin to think about next year's list. This is your chance to complete unfinished objects or create new 2022 project goals. To join our group, simply create a UFO list of twelve projects. Your list of twelve projects can include unfinished projects, new projects, parts of a large project or a combination of the three. Each month, we'll draw a number which will identify the project you'll work on over the coming month. On the third Thursday of each month, we'll meet to share our projects and choose a new number. Just think! At the end of the year, you'll feel so good with all those FOs!
September - #1
What? UFO - Unfinished Objects
When? Third Thursday of each month 5:00 until 7:00
How? Work on the chosen number project from your list until the third Thursday
**For UFO projects, yarn does not have to be purchased from TWN.

What are you making?
Isn't it fun to share your current project (or projects!) with friends?
We love sharing with each other and with our customers.
Take a look at the Leftie shawl knit with Wonderland yarn by Angela. Gorgeous!
Collette recently purchased a knitting machine, and the girl already has it smokin'! She knit her Opal socks by hand, but all of the cute accessories were knit on her machine. Wow!

Even though our friend Patty has moved many miles away, we consider her a permanent honorary member of Workshop Wednesdays. Patty finished her Glamping Blanket, and it's beautiful!


Jennifer added extra color and stripes to her Rosalia sweater. Too cute!

Super Stitcher Sam is ready for the season with her spooky cross stitch creation.

Bookish Beverly continues (very slowly) to learn how to sew quilt blocks.

We really like gnomes at TWN, and we especially like the Baker Gnome wallhanging stitched by Sparkle Girl Debbie.

Renaissance Woman Elaine used her focus fabric to sew two stunning quilt blocks— a Drunkard's Path variation and Casablanca.

Boss Lady Gayla and friend Justine are working on a beautiful quilt in the Maymont pattern to be auctioned off to raise money for church missions.

Needle Notes
We're getting in new yarns all the time, and one of them is a pretty new yarn called Santa Cruz. It is great for stranded/fair isle color work.
With the holidays coming faster than we think they will, it's time to get started on any holiday projects you want to do for family and friends. We have wide back fabric for your quilts, and lots of new wool for your wool applique projects. And, of course, you know we have yarn for all your knitting and crocheting projects. If you need help on a project from our store, we are here Tuesday through Saturday to assist you. Between Beverly, Debbie, and myself, I'll bet we can help you get back on the right track.
Don't forget the Bale Trail is up and ready for your viewing pleasure and family fun until the end of October. Here in Trenton, we have Old McDonald and his farm animals. Stop by and have your picture taken with the animals, and be sure to vote for your favorite one beginning October 1st.
I want to remind you again that the Trenton Halloween Carnival will be October 29th. We have tickets here at the store for the quilt and money raffles. Stop by and purchase your chance to win one of these prizes. You need not be present to win, but if you come to the carnival there will be lots of fun, food, and a silent auction. You'll find me at the bingo tables! We'll be having a great time.
Hope to see you all soon—
Gayla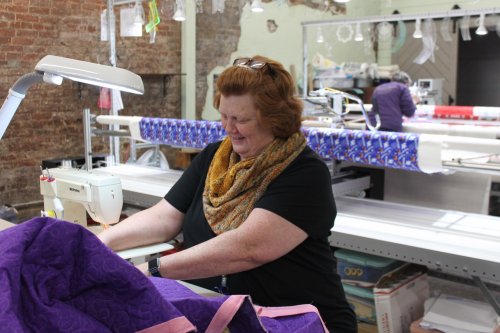 That's it for our newsletter this month, but don't forget to keep an eye on our Facebook page, blog, and website.
Thanks for spending time with us!
See something that interests you? Have a question? Have a suggestion? Check out our website or give us a call.
(270) 954-9005
https://www.thewoodenneedle.com/
https://www.facebook.com/thewoodenneedle/
https://thewoodenneedle.typepad.com/