The Wooden Needle Newsletter - November 2022
Newsletter #28
November 2022
Want to know what's happening at TWN?
You've come to the right place!
Once each month, we'll send you our newsletter to keep you in the know.
Let's count our blessings!
What are you thankful for today?
What's happening?
Small Business Saturday!
Come join the fun and support our local community on Saturday, November 26th.
We'll be open from 10:00 until 5:00.
Stop by and enter our $25 gift card giveaway!
(No purchase necessary and you don't have to be present to win.)
At checkout, pull a ticket from our bucket and receive 5%, 10%, 15%, or 20% off of your entire purchase.

Holiday Schedule
In order to spend time with our families, we will close for a few days Thanksgiving week.
-Open on Tuesday, November 22nd
-Closed on Wednesday the 23rd, Thursday the 24th, and Friday the 25th
-Open on Saturday, November 26th (Small Business Saturday)

Workshop Wednesdays!
Join us for Workshop Wednesdays!
Every month or so, we'll begin a new project together.
Our goal is to help you learn new skills or practice old ones.
There is no charge for attending TWN Workshop Wednesdays.
A basic knowledge of knitting or crocheting will be needed for these projects.
The only requirement is that you purchase your project materials here at TWN.
You don't have to attend every Wednesday--- come when you can, when you need help, or when you just want to join the party!
Workshop Wednesdays will take place every Wednesday afternoon from 2:00 until 5:00.
July - Christmas in July (ornaments) - DONE!

August - Simple hat - FINISHED!

September/October - Basic sweater - WEARING THEM!

November - Cowl (seaming project) - STARTED!

December - Mittens (colorwork)

January - Cowl (holding fingering and mohair together)

February/March - Shawl (using a gradient and a solid together)

April - Vest (three-needle bind off)

May - Socks (lace)

June - finish our WIPs
Questions? Just give us a call!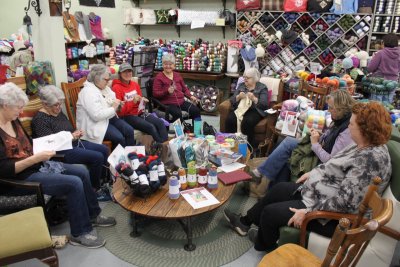 Come to Sit & Stitch!
Do you like to knit? Crochet? Embroider? Something else?
Bring your project -- whatever it is -- and join us on Thursday evenings.
This is our time to enjoy a variety of fiber crafts.
For Sit & Stitch, your crafting materials need not have been purchased from TWN.
Bring your project, and come craft with us!
We'll meet on Thursday evenings from 5:00ish until 7:00ish.

Join the Trenton Sockettes!
Who needs the New York City Rockettes?
We've got the Trenton Sockettes!
If you like to knit socks— whether it's your first or fiftieth pair— join us on Friday afternoons from 2:00 until 5:00.
Want to try toe up? Cuff down? A new pattern?
We meet every Friday from 2:00 until 5:00.

What's new?
The wool applique section of TWN is growing quickly.
Let our wool, patterns, and thread entice you back into wool applique or encourage you to begin a new hobby.

What are you gifting?
At this time of year, we start to think about hostess gifts and gifts for teachers, as well as Christmas gifts. A sweet Christmas towel or two might be just the gift to give!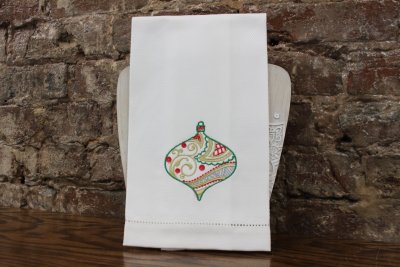 What's the UFO number for this month?
Do you see them?
They're watching you!
All those unfinished projects----
We realize the year is almost over, but you can still join us for UFO this year or begin to think about next year's list. This is your chance to complete unfinished objects or create new 2022 (or 2023!) project goals. To join our group, simply create a UFO list of twelve projects. Your list of twelve projects can include unfinished projects, new projects, parts of a large project or a combination of the three. Each month, we'll draw a number which will identify the project you'll work on over the coming month. On the third Thursday of each month, we'll meet to share our projects and choose a new number. Just think! At the end of the year, you'll feel so good with all those FOs!
October - #4
What? UFO - Unfinished Objects
When? Third Thursday of each month 5:00 until 7:00
How? Work on the chosen number project from your list until the third Thursday
**For UFO projects, yarn does not have to be purchased from TWN.
What are you making?
Isn't it fun to share your current project (or projects!) with friends?
We love sharing with each other and with our customers.
Take a look at Linda in her modified Calliope.
Gorgeous!

Annabelle and Cheyanne completed their first washcloths.
You go, girls!

Ellen is shining bright in her Guernsey Wrap.
Wonderful!




Kathy is one busy lady! She's been knitting a snuggly Easy Heirloom Blanket for her sister and the Accent on the Upbeat cowl for our Super Stitcher Sam.

Our Workshop Wednesday project was the Rosalia sweater.
Mary Beth knit hers in a beautiful blue!

Angela (the TWN UFO queen!) is showing off the lovely lace in her Canyon Lands Shawl.
Wow!

Keep it a secret! Super Stitcher Sam is doing this sweet TIny Modernist cross stitch for her sister's Christmas gift.

Bookish Beverly is knitting the Balina Top Down Cardi and a simple hat for a special friend's new baby.

Hmmm… we don't know what exciting Christmas projects are represented here, because Sparkle Girl Debbie won't tell.

Renaissance Woman Elaine is using scraps to create blocks for a Wild and Goosey quilt.
Yes... that is a quarter in the middle! Look at those tiny pieces!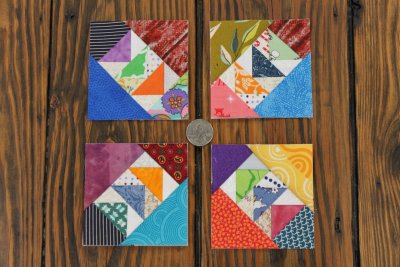 Boss Lady Gayla is using gradient yarn to knit a beautiful Winter League sweater.
Doesn't this make you think of snow?

Needle Notes
I hope you have projects planned for the winter. While we love to knit all year round, there's nothing like having a blanket project in your lap to keep you warm while you're crafting. One of my favorite blankets is the Glamping Blanket by Casapinka, but there are many knit and crochet blanket patterns to choose from. You might even want to knit a warm sweater to keep the chill away this winter. The ladies here are finishing up their Rosalia sweaters and headed into the next project on Workshop Wednesdays. Come and join us!
With the holidays coming, we want to let you know the scheduled times we'll be closed. We'll close for Thanksgiving from November 23rd through the 25th and reopen on November 26th for Small Business Saturday. We'll close for Christmas/New Years from December 24th through January 2nd, while reopening for the new year on the January 3rd.
Small Business Saturday is a great day to come out and support all the Trenton small businesses. Hope to see you then for sales and giveaways.
Take care—
Gayla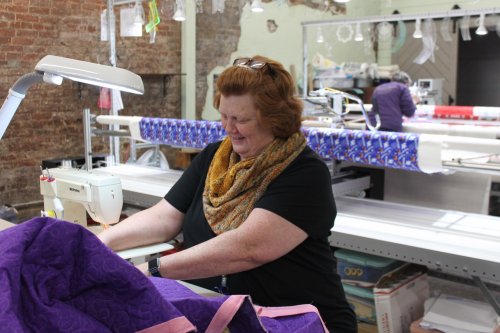 That's it for our newsletter this month, but don't forget to keep an eye on our Facebook page, blog, and website.
Thanks for spending time with us!
See something that interests you? Have a question? Have a suggestion? Check out our website or give us a call.
(270) 954-9005
https://www.thewoodenneedle.com/
https://www.facebook.com/thewoodenneedle/
https://thewoodenneedle.typepad.com/