The Wooden Needle Newsletter - March 2023
Newsletter #31
March 2023
Want to know what's happening at TWN?
You've come to the right place!
Once each month, we'll send you our newsletter to keep you in the know.
Spring is coming. . . promise!

What's happening?
It's time for UFO to begin again!
Our UFO group is a great place to finish old projects and/or plan new ones.
Take a look below in our UFO section of the newsletter for more info.
Workshop Wednesdays!
Join us for Workshop Wednesdays!
Every month or so, we'll begin a new project together.
Our goal is to help you learn new skills or practice old ones.
There is no charge for attending TWN Workshop Wednesdays.
A basic knowledge of knitting or crocheting will be needed for these projects.
The only requirement is that you purchase your project materials here at TWN.
You don't have to attend every Wednesday--- come when you can, when you need help, or when you just want to join the party!
Workshop Wednesdays will take place every Wednesday afternoon from 2:00 until 5:00.
July - Christmas in July (ornaments) - DONE!

August - Simple hat - FINISHED!

September/October - Basic sweater - WEARING THEM!

November - Cowl (seaming project) - READY TO GIFT!

December - Mittens (colorwork) - WARM HANDS!

January - Cowl (holding fingering and lace weight yarn together) - WEARING IT!

February/March - Shawl (using a gradient and a solid together) - NEARLY THERE!

April - Vest (three-needle bind off)

May - Socks (lace)

June - finish our WIPs
Questions? Just give us a call!

Come to Sit & Stitch!
Do you like to knit? Crochet? Embroider? Something else?
Bring your project -- whatever it is -- and join us on Thursday evenings.
This is our time to enjoy a variety of fiber crafts.
For Sit & Stitch, your crafting materials need not have been purchased from TWN.
Bring your project, and come craft with us!
We'll meet on Thursday evenings from 5:00ish until 7:00ish.

Join the Trenton Sockettes!
Who needs the New York City Rockettes?
We've got the Trenton Sockettes!
If you like to knit socks— whether it's your first or fiftieth pair— join us on Friday afternoons from 2:00 until 5:00.
Want to try toe up? Cuff down? A new pattern?
We meet every Friday from 2:00 until 5:00.

What's new?
We've got kits!
Stop by and take a look at all the kits and colorways.

Are we crazy?
Yes!
We're crazy for Emma's Crazy Beautiful Colors!

If you're looking for something special, the hunt is over.
Take a look at Wonderland's Silk Twist.

What are you gifting?
With Easter and spring right around the corner, give your special little someone a sweet cubbie.
Remember. . . personalization is included in the purchase price at TWN.

What's the UFO number for this month?
Do you see them?
They're watching you!
All those unfinished projects----
Join us for UFO this year!
This is your chance to complete unfinished objects or create new 2023 project goals.
To join our group, simply create a UFO list of twelve projects.
Your list of twelve projects can include unfinished projects, new projects, parts of a large project, or a combination of the three. Each month, we'll draw a number which will identify the project you'll work on over the coming month. On the third Thursday of each month, we'll meet to share our projects and choose a new number.

Just think! At the end of the year, you'll feel so good with all those FOs!

March - #8 (That means you work on this number until our next meeting.)

*Next UFO meeting - Thursday, March 16th
What? UFO - Unfinished Objects
When? Third Thursday of each month 5:00 until 7:00
How? Work on the chosen number project from your list until the third Thursday
**For UFO projects, yarn does not have to be purchased from TWN.
What are you making?
Isn't it fun to share your current project (or projects!) with friends?
We love sharing with each other and with our customers.
Carol knit a gorgeous pair of mittens— perfect for keeping crafty fingers toasty warm!

Ann used a colorburst to create this sweet hat. She's got a granddaughter that's going to love this!

That little woodpecker is just the cutest!
Take a look at Super Stitcher Sam's sweet woodland scene.

Sparkle Girl Debbie is knitting a scarf that will make you smile.
Bright and beautiful!

Look at the size of those tiny pieces!
Renaissance Woman Elaine has sewn a Feathered Star block that is 8.5 inches square.

Shhh! Boss Lady Gayla has made a beautiful quilt, but it's a gift so don't tell anyone.
She is also knitting a gorgeous Flamel Shawl with our Workshop Wednesday group.

Needle Notes
Hello, everyone!
Are you busy with projects during this cold weather we're having? We've made up lots of new kits for the store. I'm sure some will be shown above in the newsletter, but it's so much better to see them in person, so stop by.
LYS day will be here next month on Saturday, April 29th. We have some fun things planned for the day, so I hope you'll come out and spend the day with us.
Take care,
Gayla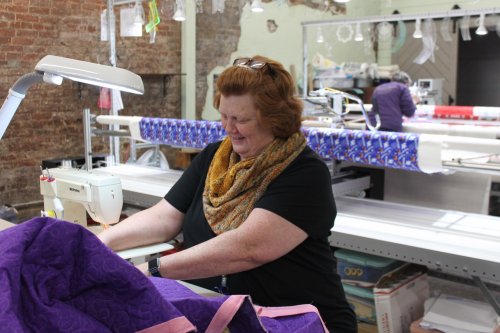 That's it for our newsletter this month, but don't forget to keep an eye on our Facebook page, blog, and website.
Thanks for spending time with us!
See something that interests you? Have a question? Have a suggestion?
Check out our website or give us a call.
(270) 954-9005
https://www.thewoodenneedle.com/
https://www.facebook.com/thewoodenneedle/
https://thewoodenneedle.typepad.com/