The Wooden Needle Newsletter - August 2023
Newsletter #36
August 2023
Want to know what's happening at TWN?
You've come to the right place!
Once each month, we'll send you our newsletter to keep you in the know.
It's back to school time!
What's happening?
Go to school with TWN!
If you'd like to learn (or relearn) how to knit or crochet, join us during Workshop Wednesdays or Third Thursday Sit & Stitch.
There is no charge for the class, but you will need to purchase your supplies from TWN.
Just give us a call and let us know you're coming!

Workshop Wednesdays!
Join us for Workshop Wednesdays!
Every month or so, we'll begin a new project together.
Our goal is to help you learn new skills or practice old ones.
There is no charge for attending TWN Workshop Wednesdays.
A basic knowledge of knitting will be needed for these projects.
The only requirement is that you purchase your project materials here at TWN.
You don't have to attend every Wednesday--- come when you can, when you need help, or when you just want to join the party!
Workshop Wednesdays will take place every Wednesday afternoon from 2:00 until 5:00.
June/July - BLANKETS AND SMALL PROJECT BAGS FINISHED!

Aug/Sept - LET THE SHAWLS BEGIN! (i-cord edging and colorwork)

Oct/Nov - cardigan (brioche-tuck) or cowl (colorwork)

Dec - wool applique (intro to wool work) or cowl/bandana (lace and holding two yarns together)

Jan/Feb - cardigan (steeking)

Mar/Apr - shawl (slipped stitches and colorwork)

May - socks (toe up or cuff down, one at a time or two at a time)
Questions? Just give us a call!

***There's been a schedule change!***
Come to Sit & Stitch on Third Thursday!
Do you like to knit? Crochet? Embroider? Something else?
Bring your project -- whatever it is -- and join us on Third Thursday.
This is our time to enjoy a variety of fiber crafts.
For Sit & Stitch, your crafting materials need not have been purchased from TWN.
Bring your project, and come craft with us!
Join us on the Third Thursday of each month from 5:00ish until 7:00ish.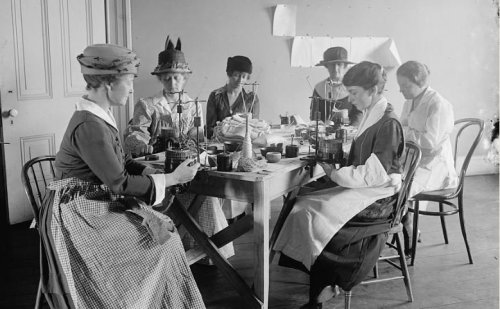 Join the Trenton Sockettes!
Who needs the New York City Rockettes?
We've got the Trenton Sockettes!
If you like to knit socks— whether it's your first or fiftieth pair— join us on Friday afternoons from 2:00 until 5:00.
Want to try toe up? Cuff down? A new pattern?
We meet every Friday from 2:00 until 5:00.

What's new?
Knitting Fever Painted Sky is a beautiful new yarn we now carry.
It's a great yarn to use in our current Workshop Wednesday project-- the Nightshift Shawl by Andrea Mowry.

What should we do on a hot summer night?
Let's take a Twilight Skinny Dip with Madelinetosh!

This is the final group for the Knitted Wit National Park 2023 collection.
Aren't they beauties?

What are you gifting?
It's time to head back to school and the perfect time to gift a backpack.
Remember— personalization is included in the purchase price at TWN.

What's the UFO number for this month?
Do you see them?
They're watching you!
All those unfinished projects----
It's never too late to join us for UFO!
This is your chance to complete unfinished objects or create new 2023 project goals.
To join our group, simply create a UFO list of twelve projects.
Your list of twelve projects can include unfinished projects, new projects, parts of a large project, or a combination of the three. Each month, we'll draw a number which will identify the project you'll work on over the coming month. On the third Thursday of each month, we'll meet to share our projects and choose a new number.
August - #7 (You work on this number until our next meeting.)
Just think! At the end of the year, you'll feel so good with all those FOs!
*Next UFO meeting - Thursday, August 17th
What? UFO - Unfinished Objects
When? Third Thursday of each month 5:00 until 7:00
How? Work on the chosen number project from your list until the third Thursday
**For UFO projects, yarn does not have to be purchased from TWN.

What are you making?
Isn't it fun to share your current project (or projects!) with friends?
We love sharing with each other and with our customers.
Carol gifted her daughter with a beautiful Marianna bolero.
Obviously, Patti is very knitworthy!

There are some clues revealing the theme of Super Stitcher Sam's beautiful cross stitch!
Can you see them?

Bookish Beverly has started a new pair of socks (because she always has socks on the needles!).

Sparkle Girl Debbie has been on a retreat.
In between all that partying, she was busy doing wonderful wool applique!

Take a look at these sweet blocks!
Boss Lady Gayla is working on her Vintage Farm Girl quilt.

Needle Notes
Hello, everyone!
We've got something new in the works here at TWN. On a regular basis, we teach folks how to knit and crochet, but we have an exciting new adventure coming up. In December, we'll be teaching wool applique during our Workshop Wednesdays. As we mentioned in the information above, Wednesday afternoons are busy here.
Questions? Give us a call. We'd love to have you join us!
Take care,
Gayla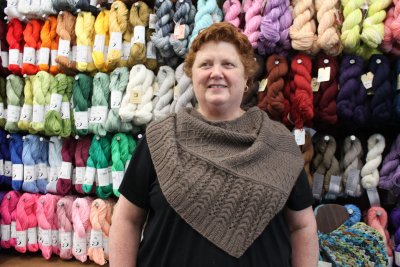 That's it for our newsletter this month, but don't forget to keep an eye on our Facebook page, blog, and website.
Thanks for spending time with us!
See something that interests you? Have a question? Have a suggestion? Check out our website or give us a call.
(270) 954-9005
https://www.thewoodenneedle.com/
https://www.facebook.com/thewoodenneedle/
https://thewoodenneedle.typepad.com/