The Wooden Needle Newsletter - September 2023
Newsletter #37
September 2023
Want to know what's happening at TWN?
You've come to the right place!
Once each month, we'll send you our newsletter to keep you in the know.
Happy Labor Day!
We're working hard. Can you tell?
What's happening?
Happy Birthday, TWN!
Our 7th anniversary is September 16th!
Stop by and celebrate with us on Friday, September 15th, and Saturday, September 16th.
-Yarn walks! (Think cake walks)
-Sign up for the giveaway! (You don't have to be present to win.)
-On those two days, purchase 5 items in the store and you'll get the 6th one (lowest price) free.
-If you can't come in the store, any online order over $25 will get 17% off with the coupon code 7YEARS.
*Punches won't be given nor may reward cards be used on these purchases.
*Quilting services are not included in the sale.
Go to school with TWN!
If you'd like to learn (or relearn) how to knit or crochet, join us during Workshop Wednesdays or Third Thursday Sit & Stitch.
There is no charge for the class, but you will need to purchase your supplies from TWN.
Just give us a call and let us know you're coming!
Workshop Wednesdays!
Join us for Workshop Wednesdays!
Every month or so, we'll begin a new project together.
Our goal is to help you learn new skills or practice old ones.
There is no charge for attending TWN Workshop Wednesdays.
A basic knowledge of knitting will be needed for these projects.
The only requirement is that you purchase your project materials here at TWN.
You don't have to attend every Wednesday--- come when you can, when you need help, or when you just want to join the party!
Workshop Wednesdays will take place every Wednesday afternoon from 2:00 until 5:00.
June/July - BLANKETS AND SMALL PROJECT BAGS FINISHED!

Aug/Sept - SHAWLS LOOKING GREAT! (i-cord edging and colorwork)

Oct/Nov - cardigan (brioche-tuck) or cowl (colorwork)

Dec - wool applique (intro to wool work) or cowl/bandana (lace and holding two yarns together)

Jan/Feb - cardigan (steeking)

Mar/Apr - shawl (slipped stitches and colorwork)

May - socks (toe up or cuff down, one at a time or two at a time)
Questions? Just give us a call!
***There's been a schedule change!***
Come to Sit & Stitch on Third Thursday!
Do you like to knit? Crochet? Embroider? Something else?
Bring your project -- whatever it is -- and join us on Third Thursday.
This is our time to enjoy a variety of fiber crafts.
For Sit & Stitch, your crafting materials need not have been purchased from TWN.
Bring your project, and come craft with us!
Join us on the Third Thursday of each month from 5:00ish until 7:00ish.
Join the Trenton Sockettes!
Who needs the New York City Rockettes?
We've got the Trenton Sockettes!
If you like to knit socks— whether it's your first or fiftieth pair— join us on Friday afternoons from 2:00 until 5:00.
Want to try toe up? Cuff down? A new pattern?
We meet every Friday from 2:00 until 5:00.
**Have another project going with TWN yarn? Even if it's not socks, come join the fun on Friday afternoons!**
What's new?
Miss Ewenice is just the cutest!
Get the wool applique kit so you can enjoy her every month of the year.
How about a game of Pickle Ball?
Let's play with Madelinetosh's Short Court!
Are blues and greens your fav?
Then you're going to love the September colorway from Emma's Yarn!
What are you gifting?
A lunch box will brighten someone's day every work day!
Remember— personalization is included in the purchase price at TWN.
What's the UFO number for this month?
Do you see them?
They're watching you!
All those unfinished projects----
It's never too late to join us for UFO!
This is your chance to complete unfinished objects or create new 2023 project goals. To join our group, simply create a UFO list of twelve projects. (This late in the year, you can make yourself a short list or get a head start on making next year's list!)
Your list of twelve projects can include unfinished projects, new projects, parts of a large project, or a combination of the three. Each month, we'll draw a number which will identify the project you'll work on over the coming month. On the third Thursday of each month, we'll meet to share our projects and choose a new number. Just think! At the end of the year, you'll feel so good with all those FOs!
August - #5 (You work on this number until our next meeting.)
*Next UFO meeting - Thursday, September 21st
What? UFO - Unfinished Objects
When? Third Thursday of each month 5:00 until 7:00
How? Work on the chosen number project from your list until the third Thursday
**For UFO projects, yarn does not have to be purchased from TWN.
What are you making?
Isn't it fun to share your current project (or projects!) with friends?
We love sharing with each other and with our customers.
Mary Beth finished her Glamping 2 blanket.
Doesn't it look comfy and cozy?
Kim's Hyacinth vest turned out beautifully.
She is ready for fall!
Super Stitcher Sam knows how to do it!
She's stitching on this cute house while watching The Two Towers.
Who ya gonna shawl?
Bookish Beverly has made a little progress on her Ghostbusters project.
Look at this sweet blanket Sparkle Girl Debbie is knitting.
It's so pretty in pink!
Boss Lady Gayla is working on a Nightshift shawl with our Workshop Wednesday folks.
Those color combinations are great!
Needle Notes
Hello, everyone!
We're getting ready for a big celebration! I was able to fulfill a dream 7 years ago when I opened The Wooden Needle. Since that time, we've unboxed a lot of yarn, quilted loads of quilt tops,and enjoyed the company of old friends while making new ones, too. You, all of our customer/friends, are the reason we're here, so we hope you'll stop by and celebrate with us. Come join the party! We look forward to seeing you on September 15th and 16th.
Take care,
Gayla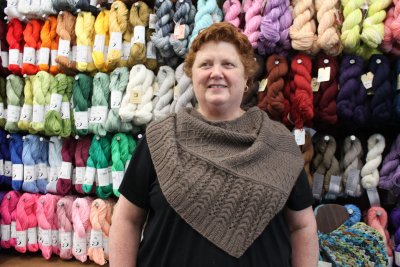 That's it for our newsletter this month, but don't forget to keep an eye on our Facebook page, blog, and website.
Thanks for spending time with us!
See something that interests you? Have a question? Have a suggestion? Check out our website or give us a call.
(270) 954-9005
https://www.thewoodenneedle.com/
https://www.facebook.com/thewoodenneedle/
https://thewoodenneedle.typepad.com/