Skip Navigation
Website Accessibility
The Wooden Needle Newsletter - November 2023
Newsletter #39
November 2023
Want to know what's happening at TWN?
You've come to the right place!
Once each month, we'll send you our newsletter to keep you in the know.
We're thankful!
What's happening?
Small Business Saturday!
Join us on Saturday, November 25th, for Small Business Saturday.
Stop by and enter our giveaway! (No purchase necessary and you don't have to be present to win.)

Jump in a yarn walk! (Think cake walk without the cake.)

At checkout, pull a ticket from our bucket and receive 5%, 10%, 15%, or 20% off of your entire purchase.
Holiday Hours
Let's celebrate Thanksgiving!
Closing at noon on Wednesday, November 22nd

Closed Thursday, November 23rd

Closed Friday, November 24th
*OPEN on Saturday, November 25th, for Small Business Saturday
Go to school with TWN!
If you'd like to learn (or relearn) how to knit or crochet, join us during Workshop Wednesdays or Third Thursday Sit & Stitch.
There is no charge for the class, but you will need to purchase your supplies from TWN.
Just give us a call and let us know you're coming!
Workshop Wednesdays!
Join us for Workshop Wednesdays!
Every month or so, we'll begin a new project together.
Our goal is to help you learn new skills or practice old ones.
There is no charge for attending TWN Workshop Wednesdays.
A basic knowledge of knitting will be needed for these projects.
The only requirement is that you purchase your project materials here at TWN.
You don't have to attend every Wednesday--- come when you can, when you need help, or when you just want to join the party!
Workshop Wednesdays will take place every Wednesday afternoon from 2:00 until 5:00.
June/July - BLANKETS AND SMALL PROJECT BAGS FINISHED!

Aug/Sept - SHAWLS READY TO WEAR! (i-cord edging and colorwork)

Oct/Nov - CARDIGANS APPEARING! (brioche-tuck) or cowl (colorwork)

Dec - wool applique (intro to wool work) or cowl/bandana (lace and holding two yarns together)

Jan/Feb - cardigan (steeking)

Mar/Apr - shawl (slipped stitches and colorwork)

May - socks (toe up or cuff down, one at a time or two at a time)
Questions? Just give us a call!
Come to Sit & Stitch on Third Thursday!
Do you like to knit? Crochet? Embroider? Something else?
Bring your project -- whatever it is -- and join us on Third Thursday.
This is our time to enjoy a variety of fiber crafts.
For Sit & Stitch, your crafting materials need not have been purchased from TWN.
Bring your project, and come craft with us!
Join us on the Third Thursday of each month from 5:00ish until 7:00ish.
Who needs the New York City Rockettes?
We've got the Trenton Sockettes!
Are you one of "those" people?
Do you enjoy knitting socks?
So do we!
And we've got a club for you!
Be on the lookout for upcoming information in January 2024!
What's new?
Madtosh Holiday Halfsies are here!
Each kit contains yarn, knit and crochet shawl patterns, and a Snap Boxie project bag.
The kits are color-curated around the themes Spiced Punch, White Elephant, and Yeti.
Choose one as a gift for a special friend or gift one to yourself.
Adding stripes to a project?
Knitting heels, toes, and cuffs in a coordinating colorway?
Emma's Yarn Practically Perfect Smalls are what you need!
A gorgeous yarn with an interesting name!
Madelinetosh has done it again by creating a beautiful Hue of the Moment for November– Future Ex-Husband.
Now that one makes you curious, doesn't it?
What are you gifting?
Tote bags are always useful, and these beautiful, winter-themed totes are just right for the upcoming season.
Gift one to a friend and another to yourself!
What's the UFO number for this month?
Do you see them?
They're watching you!
All those unfinished projects----
It's never too late to join us for UFO!
This is your chance to complete unfinished objects or create new 2023 project goals. To join our group, simply create a UFO list of twelve projects. (This late in the year, you can make yourself a short list or get a head start on making next year's list!)
Your list of twelve projects can include unfinished projects, new projects, parts of a large project, or a combination of the three. Each month, we'll draw a number which will identify the project you'll work on over the coming month. On the third Thursday of each month, we'll meet to share our projects and choose a new number.
October - #1 (You work on this number until our next meeting.)
Just think! At the end of the year, you'll feel so good with all those FOs!
*Next UFO meeting - Thursday, November 16th
What? UFO - Unfinished Objects
When? Third Thursday of each month 5:00 until 7:00
How? Work on the chosen number project from your list until the third Thursday
**For UFO projects, yarn does not have to be purchased from TWN.
What are you making?
Isn't it fun to share your current project (or projects!) with friends?
We love sharing with each other and with our customers.
Matthew's first knitting project (a dishcloth) turned out great.
He's already moved on to bigger and more difficult projects!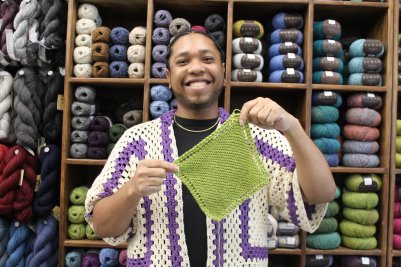 Audra knit this darling cardigan for her baby--- a sweet knit for a sweet girl!
Bookish Beverly has socks on the needles.
Now, that's a surprise— (did you catch the sarcasm?).
Sparkle Girl Debbie gifted this cute gnome to a friend.
Isn't he just the gnomiest?
A special someone in Boss Lady Gayla's life is getting a special quilt.
Just the thing to make a little girl smile!
Needle Notes
Hello, everyone!
It's hard to believe that November is here. This year has flown by! We've got several things to look forward to in the next few weeks. On Saturday, November 25th, we'll be celebrating Small Business Saturday. Not long after that, we'll get the season started with the Trenton Christmas parade. If you need help with your Christmas list, we'll be glad to offer suggestions. Stop by for a visit. We always look forward to seeing you!
Take care,
Gayla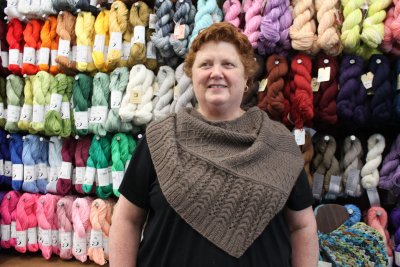 That's it for our newsletter this month, but don't forget to keep an eye on our Facebook page, blog, and website.
Thanks for spending time with us!
See something that interests you? Have a question? Have a suggestion?
Check out our website or give us a call.
(270) 954-9005
https://www.thewoodenneedle.com/
https://www.facebook.com/thewoodenneedle/
https://thewoodenneedle.typepad.com/